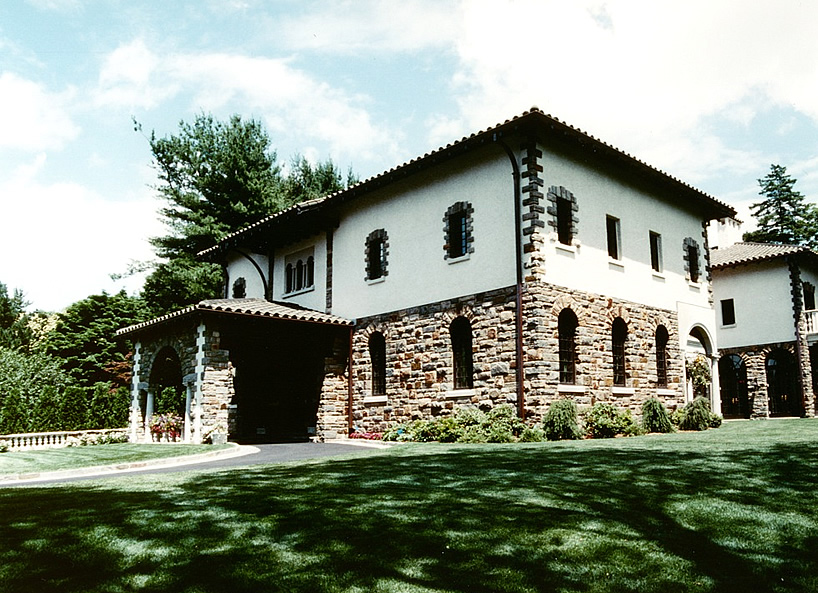 During the 'Gilded Age' around the turn of the last century, many grand estate houses were constructed along the north and south shores of the Long Island Sound. The architectural styles tended to draw on what was currently popular in European high society. One of these styles drew on the Italian Renaissance and was exemplified by the great palazzos and villas of Italy. Being one of the 'Mediterranean' styles it was well suited for waterfront locations such as this property in Belle Haven. However, this commission turned out to be a lot more than just a refurbishing of a grand old house and adding a guest house. It centered on the construction of a vast underground garage to both store and display the clients massive 80+ classic cars.

Marcheses' extensive knowledge of classical styles gathered through years of study and travel abroad and his vast experience as Chief Architect for The World Trade Center made him ideally suited to the project as it was finally constructed; a structural tour-de force. The approved design called for the construction of the guest cottage, to mirror the detailing and materials on the main 1890's mansion. To this end, the firm researched and located the original quarry where the stone had come from, and even found the centuries old roof-shingle factory in Italy that had produced the original terra cotta tiles.

What made the project ideally suited for Marchese, however was that is was a smaller version of a 'structure over membrane' technique pioneered at The World Trade Center. The entire structure of the house is supported on four heavy columns, which run straight up through the house to support steel roof trusses. Then the entire weight of the house, masonry and all is hung on steel rods and grade beams. The net result is that the house itself 'floats' over the garage membrane placing no weight at all on it. As the 40,000 Sq. ft. garage is entirely underground and its entrance completely hidden, this truly is a cottage with a secret.